Look at what happened in my trading in just
a couple weeks…
This happens over and over again.
Over the course of a couple of weeks at another time of the year, my algorithm helped me grab just as many winning trades, like:
NVDA: 46.67% in one day
AMAT: 53.61% in one day
CRWD: 23.75% in one day
DIS: 64.17% in one day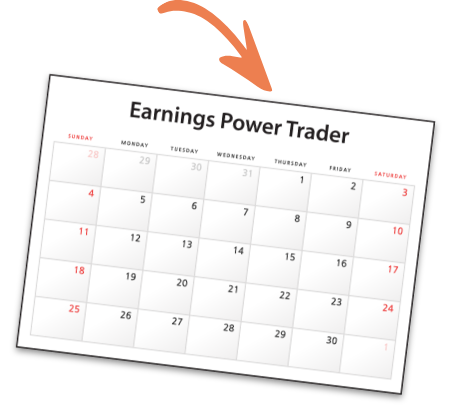 Notice how these aren't small gains.
Imagine glancing at the calendar and you can feel confident that gains like these may be on the horizon!
But wait… does that mean this Monthly Income Calendar only works during earnings season? You're only going to make moves 4 times per year?
No.
What about the rest of the year?
There are still opportunities throughout the year!
Yes, most companies issue their earnings reports during the traditional earnings seasons. Yet many are providing these reports during "non-earnings" seasons.
In other words, as long as you stay on top of these reports, you can find trade opportunities all year long.
And with the Monthly Income Calendar, you'll know exactly when those reports are coming.
Plus, I'll teach you how to play those trades.
Now, I might back off a bit — I usually only make around five trades per week during non-earnings seasons.
But the opportunities don't stop at the end of the earnings season. My algorithm still hunts down the best potential stocks, and I can back those picks with strong earnings reports throughout the year.
I'll prove it to you. Let's pick a month not during earnings season:
For Example: In a recent 'tumultuous' month, I just
kept banking fast winners…
Sometimes, my algorithm helps me pick trades that return so fast, they stun me.
Look at how quickly these trades delivered… and all in the same month:
AAPL: 34.69%% in one day
MSFT: 26.14% in one day
HAL: 21.79% in 4 days
JPM: 25.98% in 5 days
TSM: 23.75% in one day
Are you starting to see it yet?
But if you're not convinced, and you suspect I'm cherry-picking… let's zoom out even further.
1665 winning trades since January 2020 to today:
I use this strategy every day and with my own money.
The calendar.
The algorithm.
Traded with my own money from all the way back in January 2020 to today.
My AI program helped me pinpoint 1951 trades during that timeframe.
Of those, 1665 were winners.
If you're doing the math, that's an 85.34% win rate.
Where else are you going to find that kind of win rate?
If you had started with $100,000 in January 2020, and made all the trades I made, this strategy banked a profit of $739,376.
Let me make this as clear as I can: anybody can do this.
Anyone can use the Monthly Income Calendar to help
bank on winners every month…
With so much uncertainty in the air, you need every available opportunity for your portfolio.
That's why this strategy works: no matter what the market does, there will be companies reporting earnings. Shareholders will still be benefiting from those earnings reports.
Bull markets. Bear markets. Volatile markets. Steady markets. It doesn't matter — this strategy works.
But you don't have to try to cobble it together on your own. I'm going to hand it to you.
Our Live Trading Room Performance Details As of September 27, 2023
Average Return Per Trade:
37.28%
Total Gain Per Share:
$2,465
Winning Trades
1665
Losing Trades
279
Breakeven Trades
7
Winning Trades Percentage
85.34%
Backtest Initial Capital
$100,000
Backtest Final Capital
(Trading 300 Shares of Stock or 3 Options Contracts Per Trade)
$839,376
Backtest Net Gain
$739,376
* Backtest Results assumes starting with a $100,000 trading account and trading each Tradespoon Live Trading Room Trade since January 2020 with 300 shares of stock or 3 options contracts per trade.
* The performance data is for educational purposes only and the opinions expressed are those of the presenter only. All trades presented should be considered hypothetical and should not be expected to be replicated in a live trading account.
So not only is my algorithm doing well during this panic, it's outperforming my average win-rate.
And here's the best part: it only takes a few minutes per day for a trader to implement.
Get the Monthly Income Calendar
Free

with
Earnings Power Trader

Earnings Power Trader is a brand-new service that combines the power of all of my trading principles and strategies into a single, data-backed approach to trading.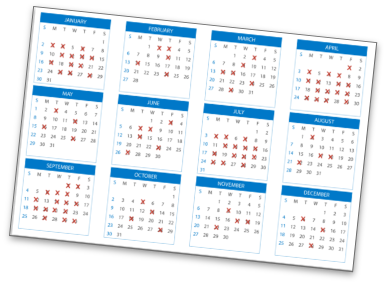 Here is how members can trade with Earnings Power Trader:
My proprietary algorithm scans the markets for the best possible trading opportunities -— building a watchlist that I release every Sunday.
Then, those opportunities are checked against a list of which companies are expected to release earnings reports soon.
I then determine which orders and positions to take, with specific entry and exit prices for each trade.
During earnings seasons, I compile up to 10 trades with this information and send them to you every Sunday in a special email alert (or SMS, if you'd prefer).
Every Monday and Wednesday, I hold a Live Trading session to show you my trading strategy, which stocks I pick to trade in my own account and how you can maximize your trading for explosive trading performance. You never have to trade alone again!
If you'd like to join me, you can take up these positions just like I will be with my own money.
During non-earnings seasons, you can expect to receive up to 5 trades per week using the exact same strategy.
That's not all, either.
Watch me make these trades in real-time with
my own money
As you may already know, one of my least favorite trends in the finance world is this group of gurus that dispense advice that they don't follow.
They tell you to buy a stock, then they go off and do something else. These gurus don't even have faith in their own trading strategies.
It's infuriating.
But as with any of my other services, I am making these Earnings Power Trader trades with my own money.
You don't just get the alerts when I choose them. You also will have full access to my live portfolio in real-time.
That means you can see exactly when I place these trades and how I set them up. I won't be in or out of any positions without you knowing about it.
If that's not enough: every Monday and Wednesday, I jump into our private Discord Community to trade, discuss the market and talk strategy LIVE.
I'll go over entry and exit targets, and adjustments to the trades that I make, and any analysis that I come across.
PLUS: Every trading day, I record a video detailing each trade I'm in, why, and how I'm managing risk in the trades.
You get access not only to those videos, but the entire archive of past videos: thousands of hours of trading videos giving you step-by-step explanations on how to find these trades and handle the risk yourself!
It's like a fast-track trading education for you, where you can see exactly how I am making these trades every week.
And again, it's with my own money. I always put my money where my mouth is. If I think a trade is good enough for you, then it's good enough for me.